Miyagawa Kozan Retrospective
February 24 to April 17, 2016
*There may be an exhibition change during the course of exhibition.
Chapter 1 : Kyoto, Mushiage, then Yokohama
Miyagawa Kozan (original name Miyagawa Toranosuke, 1842-1916) was the fourth son of a potter in Kyoto, Makuzu Chozo (1797-1860). Chozo learned the skills of pottery production from Aoki Mokubei (1767-1833) and was particularly proficient at making Ninsei-style tea ware. Establishing his kiln later in Makuzugahara, the products were gifted the title "Makuzu-yaki (Makuzu ware)" by Prince Yasui, while Chozo himself was given the name "Kozan" by Prince Kacho. In 1860, Toranosuke, who learned pottery from his father, had to take over the family business at an early age after his father and brother's death, beginning with making tea utensils. In 1868, at the request of Igi Tadazumi, the chief counselor of the Okayama domain and also a master of tea ceremony, he undertook the teaching of pottery in Mushiage, Bizen (presentday Okucho in Setouchi City, Okayama Prefecture). In 1870 he moved to Yokohama and established a kiln in Nogeyama. The following year he began full-scale production of ceramics in Fuji Yamashita of Ota village (present-day Kanoedai in Minami Ward, Yokohama City). This was the beginning of Makuzu ware, which flowered in Yokohama from the latter half of the nineteenth through the first half of the twentieth century. This Chapter introduces Miyagawa Kozan's early works such as the tea utensils made during his time in Kyoto and Mushiage as well as the fencai works fired at the Makuzu kiln freshly set up in Yokohama.
Chapter 2 : The World of Taka-Ukibori
Moving to Yokohama soon after the city opened its port, Miyagawa Kozan started the production of ceramics. It did not take long for him to win high recognition. Having been awarded prizes at both domestic and overseas exhibitions, including the 1876 Centennial International Exposition in Philadelphia and the 1878 Paris World Exposition, Kozan's works were given ample praise and became even more popular. It was around this time that Kozan developed his original highly decorative technique known as taka-ukibori (sculptural relief), in which he decorated the surface of the ware with realistic three-dimensional high reliefs and sculptures. The idea was to invent a new technique that can replace the kinrande decoration used in Satsuma ware, which was a popular item overseas at that time. Since kinrande is known for its rich use of gold, the high production cost and the outflow of precious gold from Japan to overseas countries had been issues that needed to be solved. Kozan adorned his pieces with various motifs - birds such as quails, hawks and pigeons; plants such as cherry blossoms, lotuses and grapes; animals including cats and bears; and even demons and personified frogs - which were meticulously represented to produce the naturalistic feeling. Most of the taka-ukibori pieces in Japan today are precious works that were originally sent overseas and later returned home. The extraordinary world created by Kozan combined with his high craftsmanship is the sparkling light in the history of Japanese ceramics.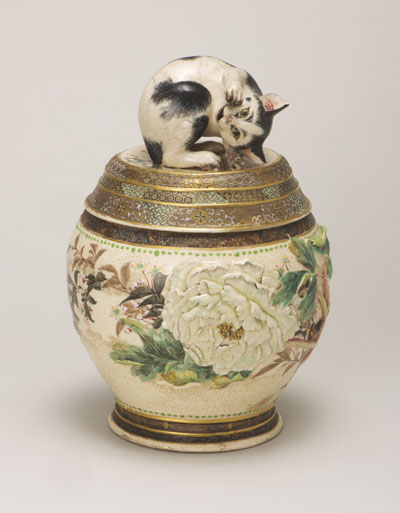 Chapter 3 : The Amazing Glazing
Since around the 1780s, Kozan began to study various types of glazes and underglaze techniques, emulating Chinese Qing porcelain. He produced wares with diverse glaze decorations, including underglaze blue, underglaze red, celadon glaze, yohen glaze and crystal glaze. The main products at the Makuzu kiln shifted to porcelain from other clay works. Handing over the management of Makuzu kiln to his son-and-law and heir Hannosuke (Miyagawa Kozan II, 1859-1940), Kozan continued to devote himself to the pursuit of his researches on ancient ceramics and glazes. Kozan's new works, including wares with underglaze decoration, were also highly prized at the Paris World Exposition in 1889, the World's Columbian Exposition in1893 and many other similar events held domestically and overseas. His great accomplishments led to the appointment as Artist to the Imperial Household in 1896, making him the leading authority on the world of Japanese ceramics at that time. Such fame did not keep him away from challenging and he was actively involved in the study of various decorative techniques until May 20, 1916, when this great ceramist passed away, leaving behind tremendous achievements in the history of Japanese ceramics.
In Chapter 3, please enjoy a colorful array of elegant and gorgeous Makuzu ware decorated by Kozan's extraordinary glazing techniques.