Celebrating a Decade in Roppongi
Kano Motonobu: All Under Heaven Bowed to His Brush
September 16 to November 5, 2017
*There will be an exhibition change during the course of exhibition
*Download the list of changes in works on display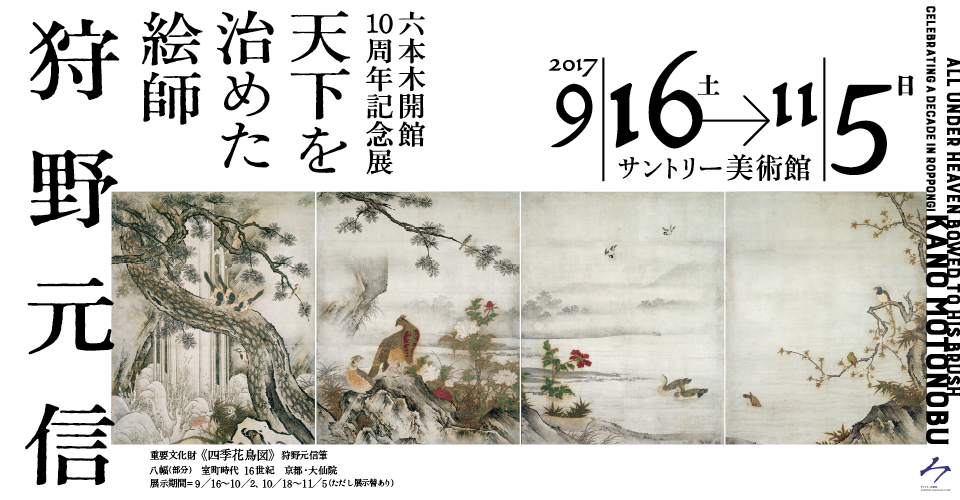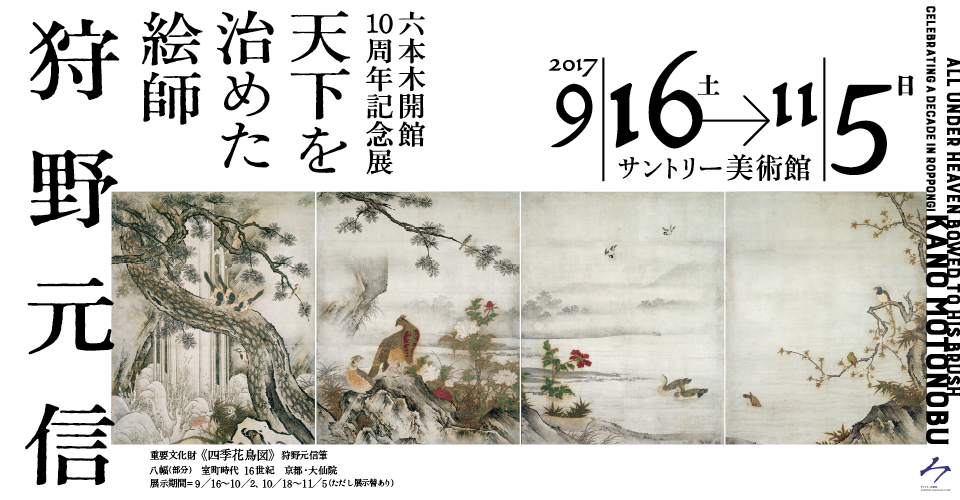 Kano Motonobu (1477?-1559) was the second-generation head of the Kano school, which maintained its central role in the art world for about four centuries, starting in the Muromachi period. The Kano school was a group of professional artists with members of the Kano family, connected by blood, at its core. The son of the school's founder, Kano Masanobu (1434-1530), Motonobu possessed superb artistic skills, and his work was the most highly regarded among all Kano school artists. He also demonstrated outstanding abilities as the leader of the Kano atelier. Those achievements laid the foundations for the Kano school's continued success, as his grandson Eitoku (1543-90) and Eitoku's grandson Tan'yu (1602-74), as well as later masters, carried on his work. The Kano school, which became painters by appointment to the Tokugawa shogunate, thrived as the largest and longest-lasting school in Japanese art history. Yet despite its duration, its glory cannot be described without focusing on Motonobu.

One of the important elements that supported the rise of the Kano school was its establishment of gatai, or orthodox, defined painting styles. Until Motonobu's day, artists working in the Chinese painting style skillfully selected styles in imitation of various famous Chinese painters to suit their clients' tastes. Motonobu organized and developed those styles into three types: shin, gyo, and so, or, respectively formal, semi-formal, and informal. By having his students learn those styles, he built a studio system capable of creative activity as a group. In creating sliding door and folding screen paintings, for example, Motonobu's students assisted him in completing large-scale works of high quality, with no deviation in style.

While his father, Masanobu took Chinese paintings as his paradigm, Motonobu expanded his repertoire,
venturing into the traditionally Japanese Yamato-e terrain. He produced kinpekiga, paintings with mineral pigments on gold backgrounds, in a continuation of Japan's golden folding screen tradition, as well as picture scrolls in rich colors. In addition to introducing such formats and techniques into his repertoire, he also actively moved into working with characteristic Yamato-e themes such as genre paintings and paintings of Japan's immortal poets. In particular, he became passionately engaged in creating fan paintings, a field in which the leaders had until then been limited to Yamato-e artists and machi eshi ("town painters": professional painters not affiliated with a particular sponsor or school).

Motonobu's abilities in both Japanese and Chinese styles and his mastery of both large formats such as wall and screen paintings and smaller formats, including picture scrolls and fan paintings, enabled him to respond to a wide variety of commissions and acquire many patrons. The Kano school thus made significant organizational strides under Motonobu's direction. This exhibition introduces the breadth of Motonobu's oeuvre, principally through his masterpieces. They are shown alongside paintings by his brilliant predecessors, whom he studied, to highlight a fascinating world of rich tradition.
Period

September 16 to November 5, 2017

*There will be an exhibition change during the course of exhibition
*Download the list of changes in works on display

Hours

10:00-18:00 *Friday and Saturday 10:00-20:00

*Open until 20:00 on September 17, October 8 and November 2
*Open until 22:00 on September 30 due to "Roppongi Art Night"
*Last admission: 30 minutes before closing
*shop×cafe will be open daily during a period of an exhibition.

Closed

Tuesdays

*Open on October 31

Admission

Adult
General
¥

1,300

Advance
¥

1,100

University and
High School Student
General
¥

1,000

Advance
¥

800

Elementary, Junior-High school students and under are free.
*With a certificate of disability, the admission fee of a disabled person and a care-giver will be waived.
*Advance tickets will be available at the Suntory Museum reception desk during opening hours from August 1 to August 31.
*On September 30 admission fee for adults and students will be ¥500 due to "Roppongi Art Night".

Discount

◇100 Yen Discount
•For presenting a coupon downloaded from our website
•For displaying a coupon on your mobile/smartphone
•For presenting a ticket to a thematic exhibition at the National Art Center, Tokyo, or Mori Art Museum
•For parties of 20 or more

*Only one discount per person

Audio Guide

¥500
*Unauthorized reproduction or use of texts or images from this site is prohibited.