Section 1
Towards a New Age: The Kan'ei Salon
The Edo shogunate established their political authority over Japan in 1615 (Genna 1), and this strengthened a variety of their activities involving the imperial court. Amidst such movements was the shogunate's economic assistance to the court through policies that would blend the two authorities, such as the entrance of Tōfukumon'in Masako (1607-1678), daughter of the second shogun Tokugawa Hidetada, into the imperial court in 1620 (Genna 6). These became major drivers behind development of Kyoto's cultural environment.
These circumstances led the cultured members of society to form salons that forged links between people across the usual social divisions of aristocrat, military class, townspeople and priest. The interaction in these salons developed an aesthetic awareness suited to this new age, and thus fostered the Kan'ei culture and its tastes.
This section provides an overview of the cultural movements at the beginning of the 17th century, namely those from the Keichō and Genna era into the beginning of the Kan'ei era, that constituted Kan'ei culture's formative period.
Section 2
Classical Revival – Emperor Gomizunō and Imperial Court Culture
Emperor Gomizunō (1596-1680) worked on the relationship between the imperial court and shogunate throughout his long life, pouring his efforts into the revival of court culture as one of the central figures of Kan'ei culture.
Amongst his efforts was the Law Decreeing Rules for the Emperor and Imperial Court Nobility promulgated in 1615 (Keichō 20), in which poetry was positioned as the art form that symbolized the imperial court. Emperor Gomizunō was a talented waka poet who also studied other forms of classical literature as he sought to heighten the revival of classical forms and tastes in the court and its circle.
The court waka circles of the day were closely connected to this classical revival that emphasized simple, flowing use of words with an easily understood, clear trend. This aesthetic applied not only to waka, but also to the various other art forms involved in court culture. For example, the narrative paintings and immortal poet images created in the court circles all have an elegantly lovely, easily approachable mood. The fact that most of these works were produced for members of the military class indicates that this miyabi world had spread outside of the confines of the imperial court.
This section presents the artistic world of court culture that focused on emperor Gomizunō, one of the wellsprings of Kan'ei culture.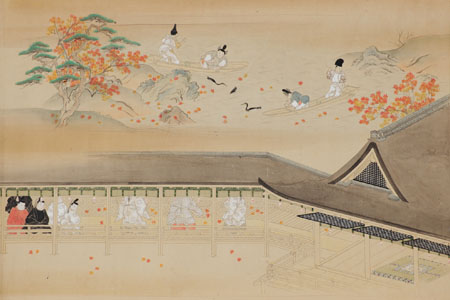 Section 3
New Aesthetics: I. Kobori Enshū
Kobori Enshū (1579-1647) was one of the major tea masters of the Kan'ei culture. For years he was the magistrate of the Fushimi district neighboring Kyoto and is also renowned as one of the talented bureaucrats of the Edo shogunate responsible for numerous architectural projects.
The period of calm and peace brought about by the shogunate suited Enshū and his tastes. He sought to educate members of the military class, developing a new tea ceremony style to use as a communication tool in these efforts. Enshū was deeply interested in the Heian period waka poet Fujiwara no Teika, and that led him to introduce waka and other aspects of the miyabi refinement of court culture into the tea ceremony world. He was also particularly involved in the construction work at the palace.
In addition to his interest in court culture, Enshū also sought out artworks such as the karamono (Chinese items) reminiscent of the Higashiyama culture of the Muromachi period, the wabi tastes of the Momoyama era, and new works that were brought to Japan from China, Korea and Europe. He used his own unique aesthetic to bring together this range of new and old artworks from various cultures to create a new form of tea ceremony aesthetic. The refined, evenly balanced forms and bright colors that characterized these works later came to called kirei sabi, linking the kirei, or lovely, aesthetic with the retiring quality of quiet simplicity.
This section introduces Enshū's world of kirei sabi, including a display of tea utensils actually used by Enshū in his tea ceremonies and those recorded to have been in his sphere.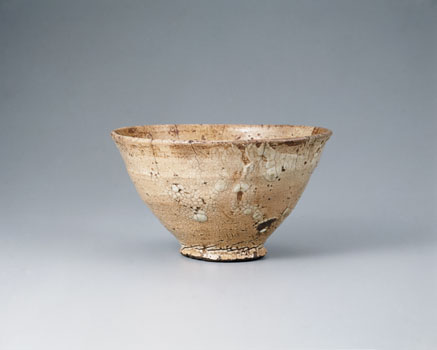 Section 4
New Aesthetics: II. Kanamori Sōwa and Ninsei
Nonomura Ninsei was a Kyoto potter renowned for his development of overglaze enamel methods. He established his kiln in the Omuro district of Kyoto in front of the gates of Ninna-ji temple in 1647 (Shōhō 4). Kanamori Sōwa (1584-1656), a tea master active in the Kan'ei era like Enshū, took an advisory role in the opening of Ninsei's Omuro kiln.
Sōwa was born into the Kanamori family, who were the masters of Hida Takayama Castle (in present-day Gifu prefecture), and later was active as a tea master in Kyoto. Sōwa interacted with members of the military class, townspeople and aristocrats, acting as a mediator between the Omuro wares he had advised and these various consumers. His tastes, known as Sōwa konomi, or Sōwa preference, can be seen in a group of works characterized by a surprisingly subdued color palette and individualistic, but refined forms. These can be said to be continuations and developments of the kirei sabi tastes that characterized Kan'ei aesthetics.
After Sōwa's death the Omuro kiln developed primarily as a kiln producing various forms of overglaze enamelware. While today Omuro ware is known as lovely overglaze enamelware with Ninsei as its main proponent, in fact, after Sōwa's guidance ended Omuro ware was largely made in the tastes of the Edo and regional daimyō.
This section presents a diverse array of Ninsei's works that range from the early period Sōwa taste examples to the later vividly lovely overglaze enamel works.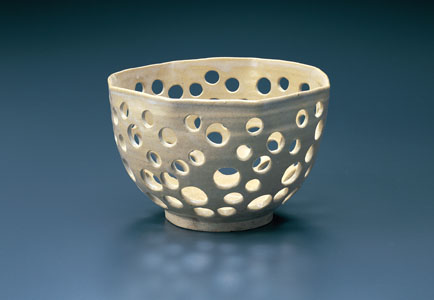 Section 5
New Aesthetics: III. Kanō Tan'yū
Kanō Tan'yū (1602-1674) was born in Kyoto, the oldest son of Kanō Takanobu, a Kanō school painter. The Tokugawa shoguns of the day recognized Tan'yū's painting prowess from a young age. He was active as a shogunal painter in Edo after the Tokugawa shifted their center of activities to their new capital. Tan'yū dedicated his life to finding an aesthetic suited to the new age brought about by Tokugawa rule, and indeed also played an important role in the development of Kan'ei culture.
Today Tan'yū's reputation as a painting master lies in the development of his own unique style that turned its back on the splendid Momoyama style and completely changed Kanō style through an emphasis on expansive blank space and the use of pale toned colors. With the backing of the shogunal government, these changes then influenced all manner of painting styles throughout the Edo period.
And yet, emperor Gomizunō praised some of Tan'yū's works and we cannot overlook the fact that such endorsement indicated that the court culture of the day also enjoyed his work. Indeed, his elegantly clear and lovely painting style can be said to have accorded with the kirei sabi of Kobori Enshū, who he interacted with on creative projects and in tea ceremony settings. Basically this new Tan'yū style could be seen as the cutting edge, period aesthetic that did away with class boundaries and was shared by military and court member alike.
This section looks back at Tan'yū's oeuvre, spanning the Kan'ei era through his final years as he experimented with new tastes that suited his period.
*Unauthorized reproduction or use of texts or images from this site is prohibited.