Kawanabe Kyosai: Nothing Escaped His Brush
February 6 to March 31, 2019
*There will be an exhibition change during the course of exhibition
*Download the list of changes in works on display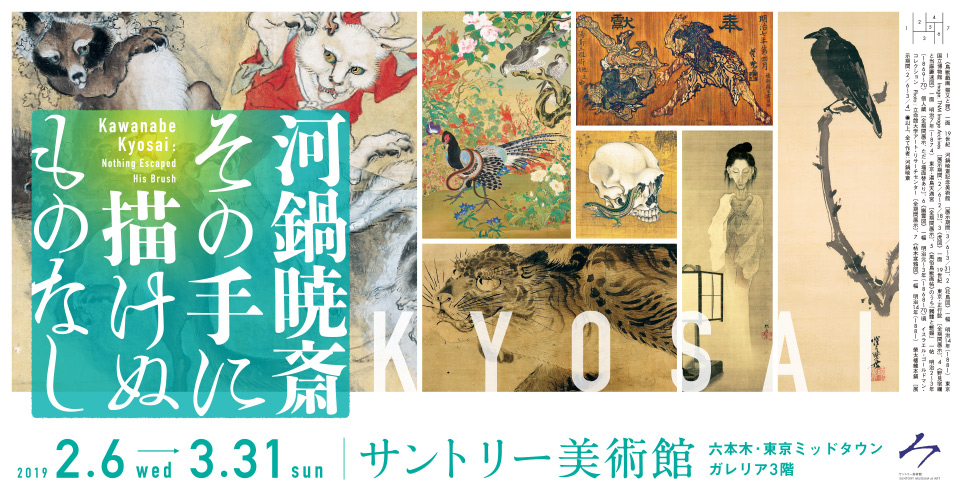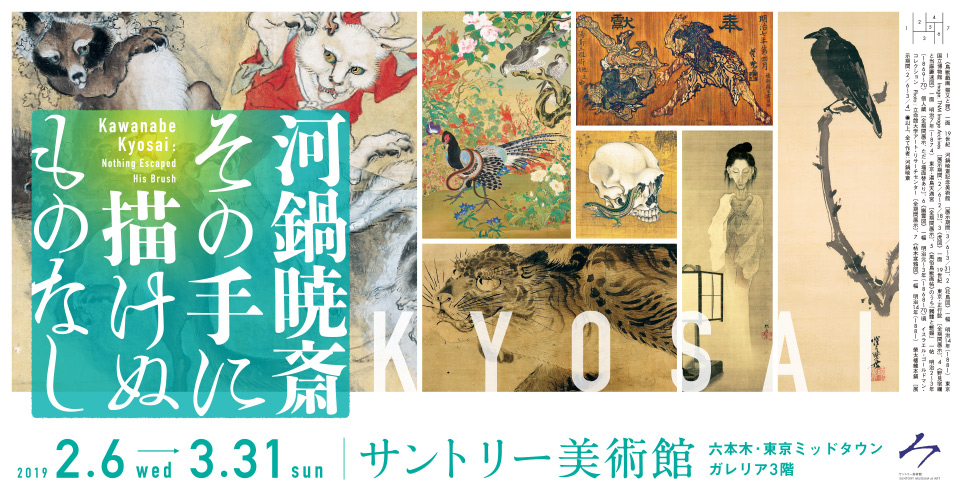 Kawanabe Kyosai (1831-89) was born in 1831 in Koga in the province of Shimousa (now Koga, Ibaraki prefecture). When he was two-years old in the East Asian age reckoning (kazoe-doshi), his family moved to Edo.* At the age of seven, he began studying painting with the ukiyo-e artist Utagawa Kuniyoshi. He later studied with Maemura Towa (?-1841) of the Surugadai Kano school and then with Towa's own teacher, Kano Tohaku Norinobu (?-1851). He took the art name "Kyosai" ("crazy studio") upon becoming independent as an artist and won renown for his giga (comic pictures) and other works. In 1870, however, at the age of 40, he was imprisoned for creating a caricature, at a gathering of painters and calligraphers. It is said that the caricature insulted exalted, powerful men. He then changed the first character of his art name so that, while still pronounced "Kyosai," it meant"enlightened studio."
That incident and his satirical paintings making fun of the Meiji government contributed to Kyosai's image as a rebellious, defiant spirit. It is not difficult to image that Kyosai, who was 38 when the Meiji Restoration occurred, had mixed feelings about the new government and the rapid pace of modernization it promoted, along with the other residents of the capital. What underlay his criticism and satire was not strong opposition to the new government as such, however. Rather, it was fueled by his affection for Edo culture.
The Kano school declined after the fall of the Tokugawa shogunate, but Kyosai proudly regarded himself as a Kano-school artist throughout his life. Kyosai's sophisticated painting techniques and his deep understanding of traditional imagery were supported by Kano-school dedication to constant practice and the study of classic paintings as the foundations for an artist's work. The paintings of Kannon, which he produced daily late in his life, and his careful copies of his predecessors' work, speak to Kyosai's sincerity and passion for art.
This exhibition commemorates the 130th anniversary of Kyosai's death. It has two major foci: his work as a "Kano-school painter" and his innovative exploration based on the study of classical paintings during the tumultuous closing years of the Tokugawa shogunate and the launch of the new Meiji government.

* In the East Asian age reckoning system, the age count starts at one instead of zero at the moment of birth, and a year is added on each New Year's Day.
Period

February 6 to March 31, 2019

*There will be an exhibition change during the course of exhibition
*Download the list of changes in works on display

Hours

10:00-18:00 *Friday and Saturday 10:00-20:00

*Open until 20:00 on February 10 and March 20
*Last admission: 30 minutes before closing

Closed

Tuesdays

*Open until 18:00 on March 26
*shop×cafe will be open daily during a period of an exhibition.

Admission

Adult
General
¥

1,300

Advance
¥

1,100

University and
High School Student
General
¥

1,000

Advance
¥

800

Elementary, junior high school students and under are free.
*With a certificate of disability, the admission fee of a disabled person and a care-giver will be waived.
*Advance tickets will be available at the museum reception desk during opening hours from November 28 to January 20, 2019.

Discount

◇100 Yen Discount
•For presenting a coupon downloaded from our website
•For displaying a coupon on your smartphone
•For presenting a ticket to a thematic exhibition at the National Art Center, Tokyo, or Mori Art Museum
•For parties of 20 or more

*Only one discount per person

Audio Guide

¥550
*Unauthorized reproduction or use of texts or images from this site is prohibited.