The 50th anniversary of the Suntory Foundation for the Arts
Mino Tea Wares: Kiseto, Setoguro, Shino, and Oribe
September 4 to November 10, 2019
*There will be an exhibition change during the course of exhibition
*Download the list of changes in works on display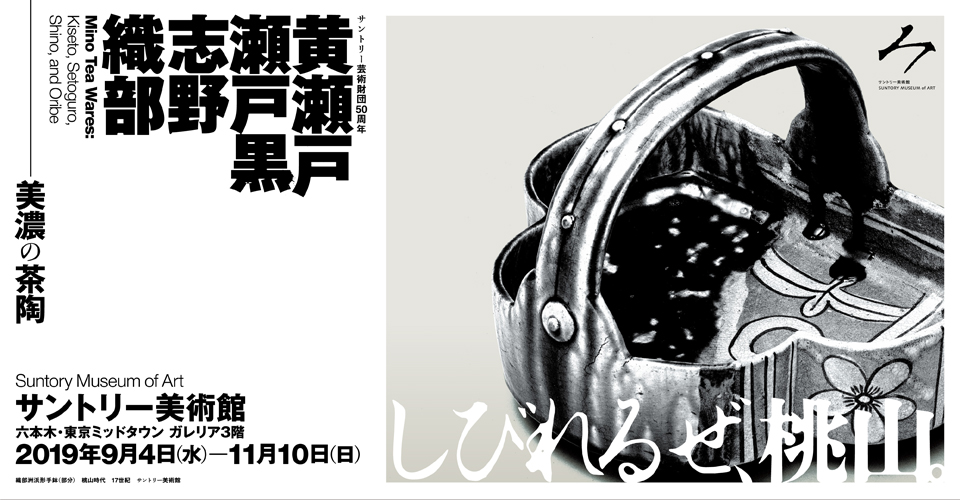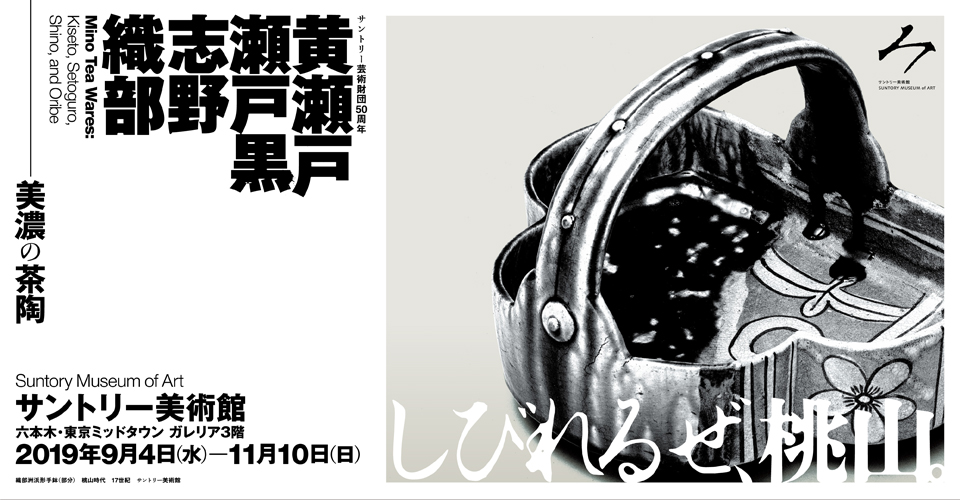 New forms of ceramic works designed for use in the Japanese tea ceremony were created at kilns throughout Japan during the Momoyama period (late 16th century– early 17th century). As part of the trend, potters in the Mino area (present-day Tōnō district) of Gifu prefecture produced and distributed large quantities of tea wares that are powerfully formed, vividly colored and novel in design in what came to be known as Kiseto, Setoguro, Shino and Oribe wares.
And yet it wasn't until the Shōwa era (1926–1989) that these Kiseto, Setoguro, Shino and Oribe works were known to have been produced in the Mino region. Prior to that time it was thought they had been fired in the Seto kilns of present-day Aichi prefecture. In 1930 (Shōwa 5), Arakawa Toyozō (1894–1985) discovered a shard of a Shino cylindrical tea bowl with bamboo shoot design at the site of an old kiln in present-day Ōgaya, Kukuri, Kani-shi, Gifu prefecture. This discovery clarified that the Shino works previously thought to have been fired in Seto were actually produced in Mino. This great discovery led to an increased interest in Mino wares.
During the modern era, wealthy individual collectors of tea utensils and other art forms (known in Japanese as sukisha), connoisseurs, ceramic artists, ceramics researchers, and aficionados were each from their own position actively involved in collecting, discussing, and researching antique ceramics as they honed their understanding and connoisseurship skills. For these lovers of ceramics, Mino wares became a sought-after form.
We hope that visitors to this exhibition will enjoy the vivid energy and individualistic fascination of Mino wares. At the same time, we hope that the presentation of renowned works formerly owned by modern sukisha and major works by modern era ceramic artists Arakawa Toyozō and Katō Tōkurō (1897–1985) will convey how interest in and evaluation of Mino has grown since the modern era.
Period

September 4 to November 10, 2019

*There will be an exhibition change during the course of exhibition
*Download the list of changes in works on display

Hours

10:00-18:00 *Friday and Saturday 10:00-20:00

*Open until 20:00 on September 15, 22, October 13 and November 3
*Last admission: 30 minutes before closing

Closed

Tuesdays

*Open until 18:00 on November 5
*shop×cafe will be open daily during a period of an exhibition.

Admission

Adult
General
¥

1,300

Advance
¥

1,100

University and
High School Student
General
¥

1,000

Advance
¥

800

Elementary, junior high school students and under are free.
*With a certificate of disability, the admission fee of a disabled person and a care-giver will be waived.
*Advance tickets will be available on the website from June 26 to September 3 / at the museum reception desk during opening hours from June 26 to August 18.

Discount

◇100 Yen Discount
•For presenting a coupon downloaded from our website
•For displaying a coupon on your smartphone
•For presenting a ticket to a thematic exhibition at the National Art Center, Tokyo, or Mori Art Museum
•For parties of 20 or more

*Only one discount per person

Audio Guide

¥550
*Unauthorized reproduction or use of texts or images from this site is prohibited.