Suntory Museum of Art 60th Anniversary Exhibition
Special Exhibition Prince Shotoku:
In Commemoration of his 1400th Grand Memorial
November 17, 2021 to January 10, 2022
*There will be an exhibition change during the course of exhibition.
*Download the list of changes in works on display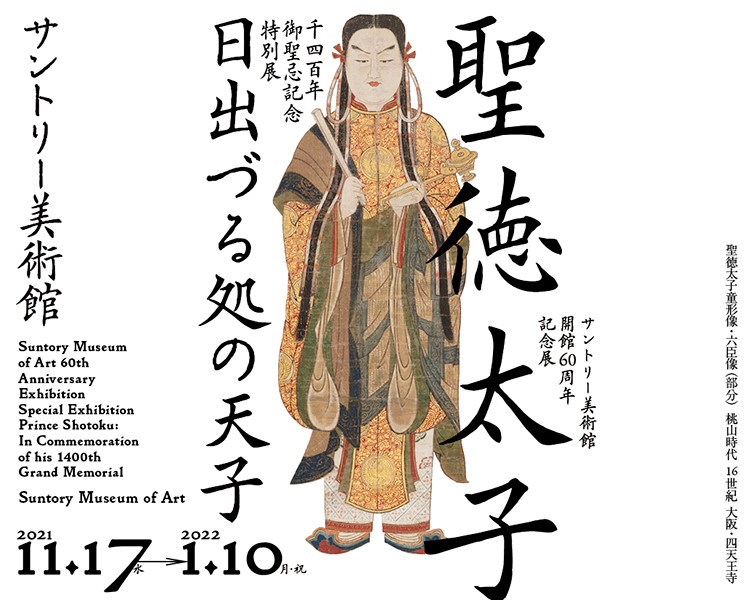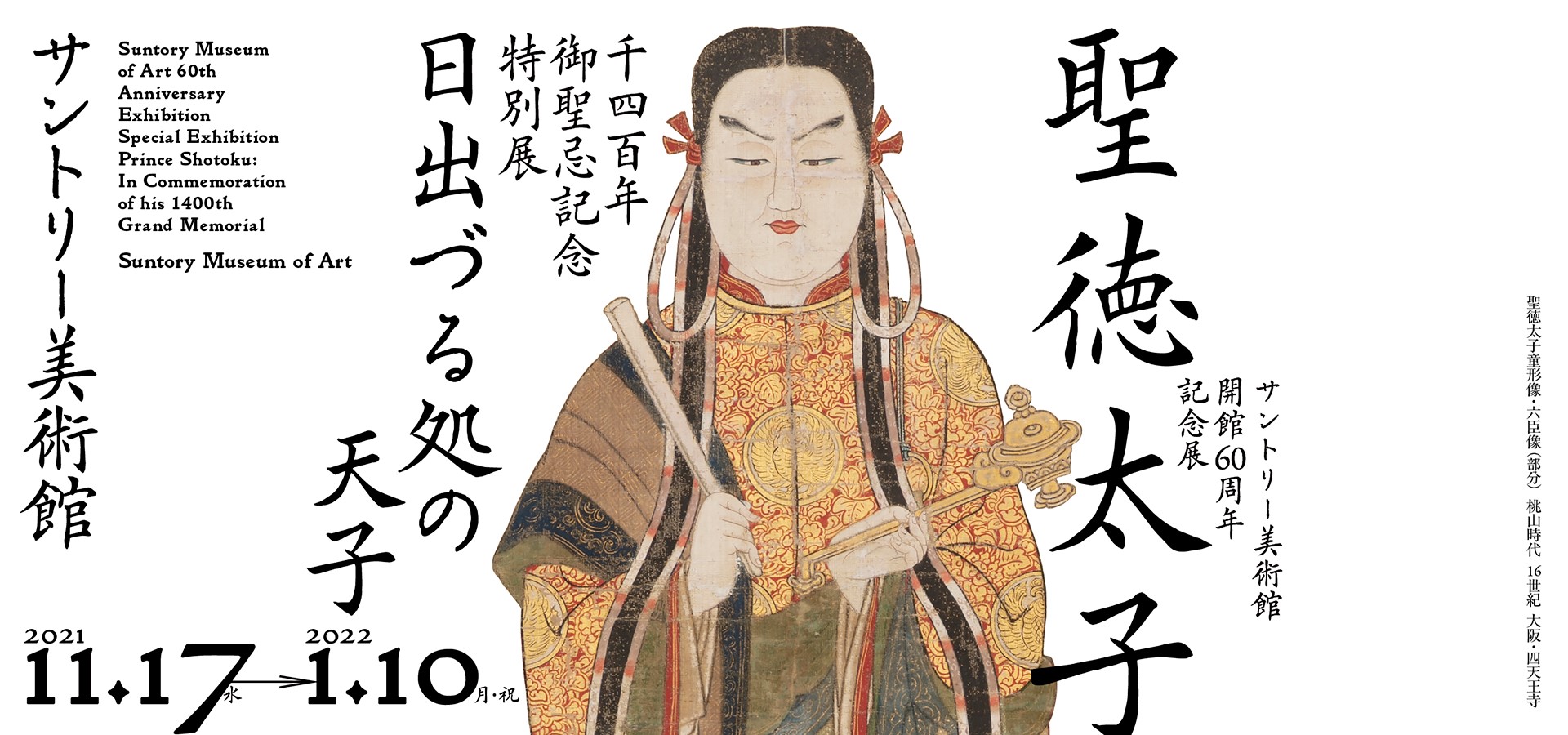 2022 marks the 1400th anniversary of the passing of Prince Shotoku (574–622).
As part of this once-a-century event, related temples will be holding the Shoryo-e Ceremony and other services to commemorate Prince Shotoku's achievements. On this occasion, this exhibition will examine Prince Shotoku's life and the devotion he continues to inspire after his passing.
Prince Shotoku was born the son of Emperor Yomei. While serving as regent under Empress Suiko, he played a major role in building Japan's state system by formulating the Seventeen Article Constitution and dispatching envoys to Sui Dynasty China, for example. He also laid the foundations of Buddhism in Japan and he established several temples, including Shitenno-ji in Osaka and Horyu-ji in Nara.
Built in the first year of Empress Suiko's reign in 593, Shitenno-ji is Japan's oldest state-sponsored temple. It later became the center of Prince Shotoku worship and it was visited by several eminent Buddhist priests, including Saicho, the founder of the Japanese Tendai school, and Shinran, the founder of the Jodo Shinshu school. Shitenno-ji was destroyed by war or disaster several times during its long history, but it rose anew each time thanks to the unceasing devotion felt for Prince Shotoku.
In recent times, the Prince's political role as a founder of the Japanese state has attracted attention, with his portrait adorning banknotes and the walls of the former Grand Bench of the Supreme Court of Japan, for instance.
This exhibition examines how Prince Shotoku has continued to inspire respect and devotion over the 1400 years since his passing. It explores this question through treasures passed down through related temples and shrines across Japan, including those belonging to Shitenno-ji, the center of Prince Shotoku worship. We hope the exhibition conveys a sense of Prince Shotoku's enduring legacy, from the past, to the present and into the future.
Period

November 17, 2021 to January 10, 2022

*There will be an exhibition change during the course of exhibition.
*Download the list of changes in works on display

Hours

10:00-18:00 *Friday and Saturday 10:00-20:00

*Open until 20:00 on November 22 and January 9
*Last admission: 30 minutes before closing

Closed

Tuesdays

*Open until 18:00 on November 23 and January 4
*Closed from December 28, 2021 to January 1, 2022

Admission

Adult
General
¥

1,500

Advance
¥

1,300

University and
High School Student
General
¥

1,000

Advance
¥

800

Elementary, junior high school students and under are free.
*With a certificate of disability, the admission fee of a disabled person and a care-giver will be waived.
*Advance tickets will be available on the website from September 15 to November 16.

Discount

◇100 Yen Discount
•For presenting a ticket to a thematic exhibition at the National Art Center, Tokyo, or Mori Art Museum

*Only one discount per person

Audio Guide

¥600

English audio guide available
*Unauthorized reproduction or use of texts or images from this site is prohibited.