What is the difference between the beer yeast genome and that of the already-sequenced Saccharomyces cerevisiae?
Our genetic research yielded two beer yeast sequences: the S. cerevisiae (Sc) sequence, which is very similar to the S. cerevisiae genome (homology: ≥ 98%) and the non-S. cerevisiae (non-Sc) sequence (also referred to as the S. eubayanus (Sb) sequence), which shows about 80% homology to S. cerevisiae (Sc) sequence. We also identified a large number of Sc/non-Sc chromosomes produced by translocation between Sc and non-Sc sequences (shown by the combination of blue and orange in the figure on the right).
The findings indicate that translocation between many heterologous chromosomes occurred after the natural hybridization between S. cerevisiae and related species, which led to the production of our modern beer yeasts with their complex chromosomal structures.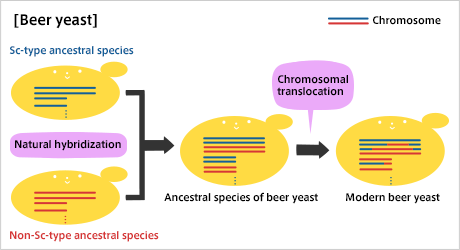 Reference

Nakao, Y. et al.: DNA Res., 16(2) 115-129 (2009)