Celebrating a Decade in Roppongi
Sèvres: 300 Creative Years
Porcelain for the French Court
1. Eighteenth-century Sèvres
Chinese porcelain reached Europe in the sixteenth century via Portugal and in the seventeenth via the Netherlands. These ceramics were highly fashionable among royalty and aristocrats, but also extremely expensive.
Given the potential demand, several European countries experimented with domestic production of porcelains, and soft-paste porcelains began being fired in several places in France. One was the predecessor of Sèvres, the Manufacture de Vincennes, which began producing soft-paste porcelains in 1740 in the tower of the Chateau de Vincennes, at the eastern edge of Paris.
Initially, Vincennes modeled its wares on the hard-paste porcelains produced at the Meissen manufactory in Saxony. It gradually, however, outgrew the Meissen style to create its own sophisticated style. Leading artists at the French court suggested one new form or design after another, and the superb Sèvres craftsmen realized them in porcelain.
The manufactory received a royal warrant (a privilege, or monopoly) from Louis XV, and in 1756, expanding its scale, it moved to a new facility in Sèvres, on the west edge of Paris. This section introduces eighteenth-century Sèvres, whose patrons included members of the aristocracy and royalty, including Madame Pompadour, King Louis XVI, Queen Marie Antoinette, and Catherine the Great, Empress of Russia.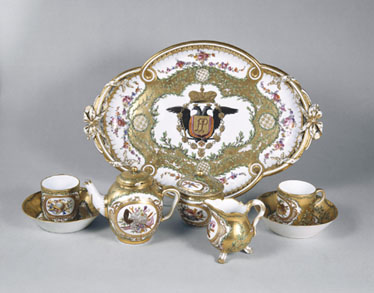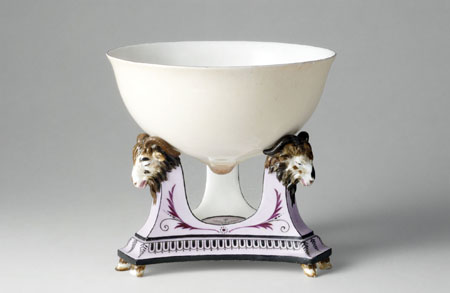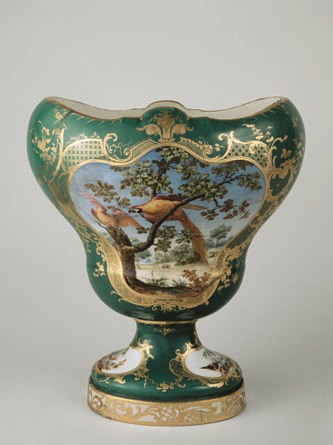 2. Nineteenth-century Sèvres
Despite the political turmoil in France that began with the French Revolution (1789-99), Sèvres continued to be a state-owned enterprise.
Alexandre Brongniart(1770-1847), who was the director of the Sèvres manufactory between 1800 and 1847, led Sèvres into its nineteenth-century golden age. Brongniart incorporated knowledge from fields that included ornithology, botany, geology, and topography in designs for Sèvres products, and the manufactory produced legions of new vessel forms and decorations.
In 1824, he founded world's first museum specializing in ceramics (including glass). Under his direction, Sèvres introduced radical improvements in technologies and also experimented with arts other than porcelain production that require firing, including stained glass and cloisonne.
After the glorious period with Brongniart as director, Sèvres continued to develop new technologies. On the design front, however, it repeatedly combined earlier forms and decorations; the result is what has been called of in an overly decorated style.
This section explores Sèvres in the nineteenth century, tracing the sources of allure to the crystallization of deep knowledge spanning a wide range of scholarly fields and brilliant techniques.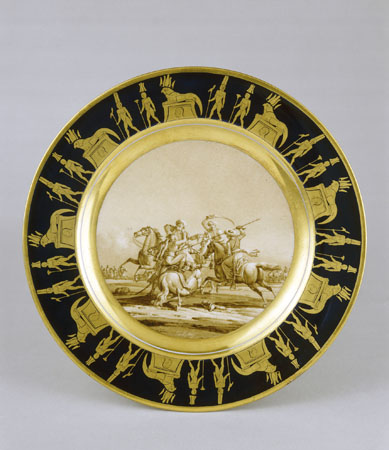 3. Twentieth-century Sèvres
In the latter half of the nineteenth century, ceramic production centers in Europe, America, Japan, and China encountered each others' work at international exhibitions. Stimulated by those encounters, they competed in terms of both the technical and artistic qualities of their wares. That was also the period when Japonisme was flourishing.
Alexandre Sandier (1843-1916), who was appointed artistic director at Sèvres in 1897, updated its works in the Art Nouveau style and achieved great success at the Paris Universal Exhibition of 1900. Until then, Sèvres had not been open to foreign artists. In 1904, however, Ichiga Numata, a Japanese sculptor, was accepted as Sèvres' first non-French "collaborating artist."
Georges Lechevallier-Chevignard (1878-1945) took office as director of the manufactory in 1920; he sought the cooperation of famous artists, architects, and interior designers to develop Art Déco wares. Sèvres achieved a major success at the 1925 Exposition Internationale des Arts Décoratifs et Industriels Modernes in Paris, receiving large commissions from the Prince Asaka Residence (now the Tokyo Metropolitan Teien Art Museum) and other clients.
This section introduces the Art Nouveau style that build Sèvres' golden age in the first half of the twentieth century, the work of the sculptor Ichiga Numata, and the Art Déco style.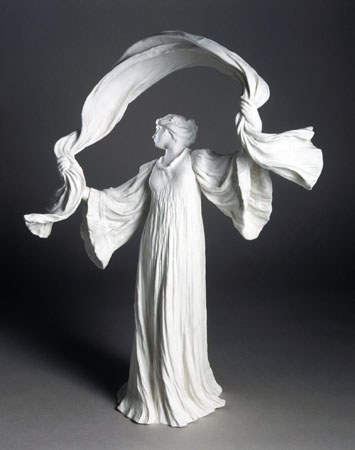 4. Sèvres from 1960 to 2016
From the 1960s, Sèvres has continued to reproduce its historic masterpieces while inviting contributions by leading contemporary artists from throughout the world as it commits its energies to creating ever more fascinating porcelains.
Serge Gauthier (1911-2004), who became director of the manufactory in 1964, enlisted the assistance of acclaimed abstract artists active in France to breath a new, contemporary quality into Sèvres. Gauthier's policy remains in force, and many famous artists have brought new ideas to Sèvres. Sèvres has applied its technical experience and its passion to the utmost to realize in porcelain ideas that at times appeared to be utterly unmanufacturable fantasies. Addressing those challenges has also brought about progress in research to produce new colors, new ways of applying colors, and new materials.
This section introduces the works born of the uninhibited creativity of leading artists in many fields, from architecture and sculpture to painting and design.