The Ryukyu Kingdom: A Treasure Chest of Beauty
July 18 to September 2, 2018
*There will be an exhibition change during the course of exhibition
*Download the list of changes in works on display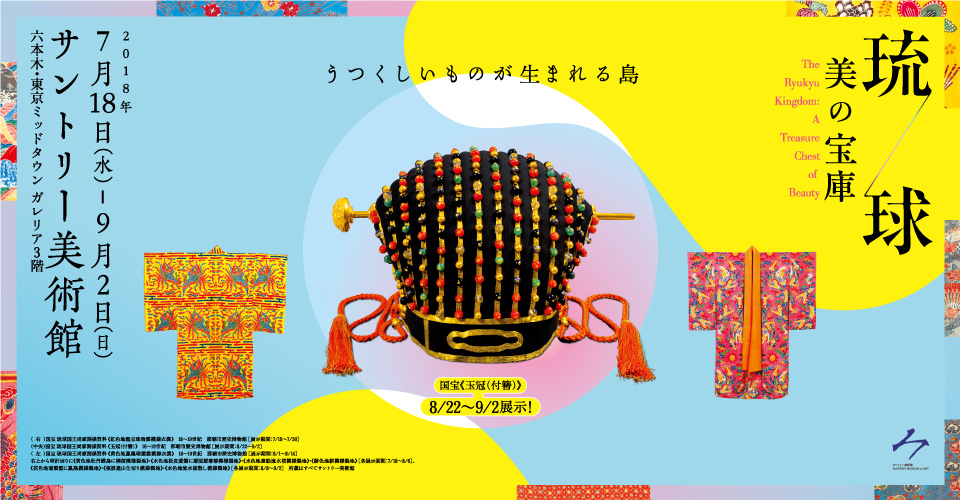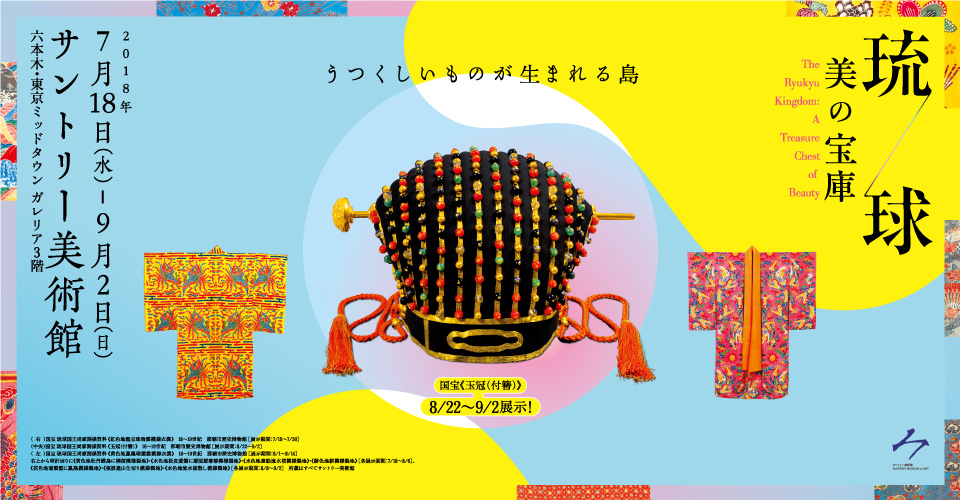 Okinawa, a prefecture that consists of a great many islands, was known as the Ryukyu Kingdom in the past. As a maritime kingdom and entrepôt, Ryukyu created a distinctive aesthetic. The founding of a dynasty that unified the islands' rule in the fifteenth century launched more than four centuries in which the Ryukyu Kingdom prospered as the bridge to the many countries of East Asia. During those centuries, it also acquired a host of treasures from many other lands.
This exhibition introduces the beauty of the Ryukyu Kingdom, focusing on its textiles, exemplified by brilliant bingata fabrics, paintings that show influences from both China and Japan, and dazzlingly beautiful lacquerware. It is a rare opportunity for the superb works that have been treasured and handed down today to gather in one setting. Among them, the National Treasures: Ryukyu Sho Dynasty Related Artifacts are treasures indeed, a glorious highlight of this exhibition.
The Suntory Museum of Art, with "Art in Life" as its theme, regards bingata textiles and Ryukyu lacquerware as among its core collections and has held a number of exhibitions about Okinawa. They include the 1968 Autumn Special Exhibition: Okinawan Textiles and the 1972 Special Exhibition: Okinawa 50 Years Ago: Seeing Lost Cultural Assets Through Photographs, held jointly with the Ryukyu Governmental Museum. After the museum's move to Roppongi in 2007, it continued that series under its new guiding message of "Art revisited. Beauty revealed. " In 2012, the museum presented Bingata: Colors and Shapes of the Ryukyu Dynasty, Commemorating the 40th Anniversary of the Reversion of Okinawa to Japan. 2018 is fifty years after the 1968 Autumn Special Exhibition: Okinawan Textiles. The Ryukyuan arts, revisiting the arts from throughout East Asia and revealing its distinctive forms of beauty, are filled with cultural diversity and invigorating fascination. This exhibition is a splendid opportunity to experience the radiance of the Ryukyu Kingdom, beauty that transcends the ages.
Period

July 18 to September 2, 2018

*There will be an exhibition change during the course of exhibition
*Download the list of changes in works on display

Hours

10:00-18:00 *Friday and Saturday 10:00-20:00

*Last admission: 30 minutes before closing

Closed

Tuesdays

*Open until 18:00 on August 14
*shop×cafe will be open daily during a period of an exhibition.

Admission

Adult
General
¥

1,300

Advance
¥

1,100

University and
High School Student
General
¥

1,000

Advance
¥

800

Elementary, Junior-High school students and under are free.
*With a certificate of disability, the admission fee of a disabled person and a care-giver will be waived.
*Advance tickets will be available at the Suntory Museum reception desk during opening hours from April 25 to July 1.

Discount

◇100 Yen Discount
•For presenting a coupon downloaded from our website
•For displaying a coupon on your smartphone
•For presenting a ticket to a thematic exhibition at the National Art Center, Tokyo, or Mori Art Museum
•For parties of 20 or more

*Only one discount per person

Audio Guide

¥550
*Unauthorized reproduction or use of texts or images from this site is prohibited.