In the Country of Fans, Japan
November 28, 2018 to January 20, 2019
*There will be an exhibition change during the course of exhibition
*This exhibition will travel to Yamaguchi Prefectural Art Museum (March 20 to May 6, 2019).
*Download the list of changes in works on display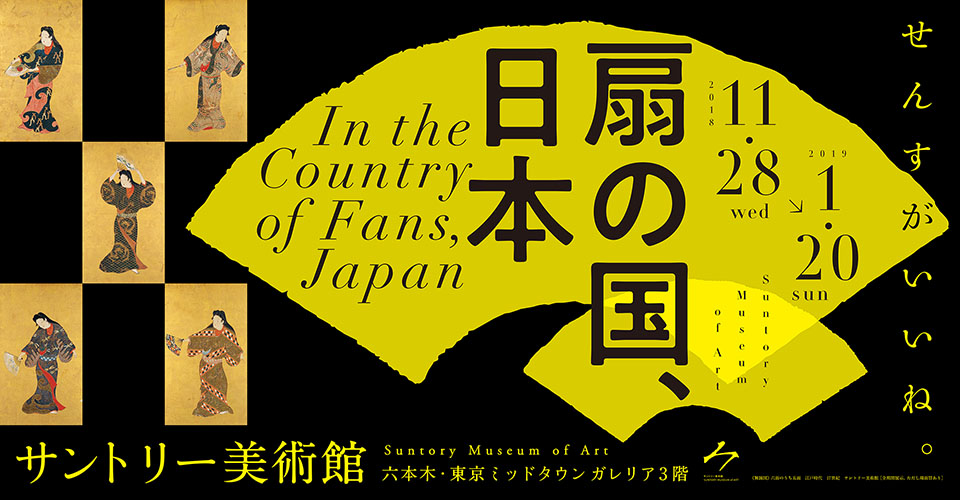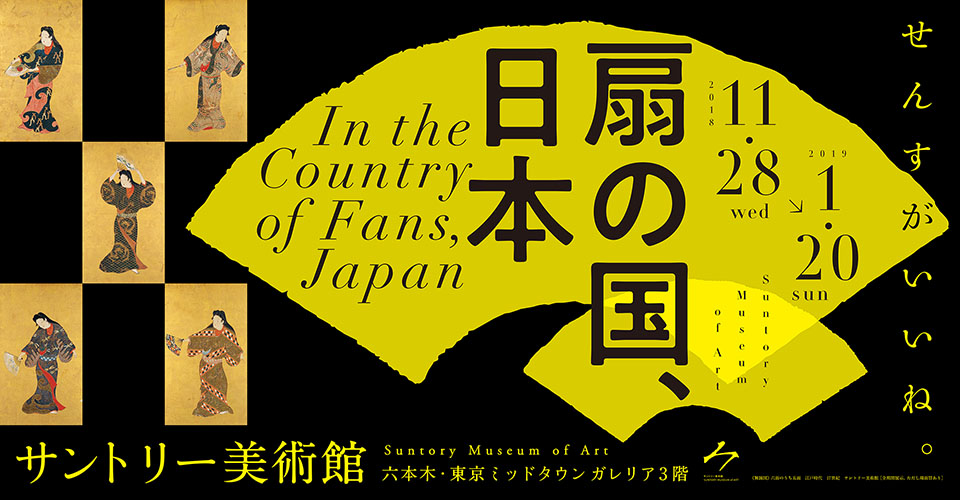 The ogi or folding fan was invented and developed in Japan. When and how the first folding fan came about is unknown. We do know, however, that by the end of the tenth century, folding fans were being presented to China and the Korean peninsula as tribute goods or special gifts. Chinese documents include new terms devised to differentiate this new type of fan from the conventional flat fan: "folding fan" or "Japanese fan," for example. As those sources state, the folding fan was a Japanese original.
Folding fans became more than implements used in religious rituals or in everyday life. Highly portable, they were accessories that people could carry as their mood, location, and the season dictated. They became the most familiar work of art, an object of beauty that anyone, regardless of status, could enjoy anywhere and anytime. Folding fans with waka poems or paintings on them became popular choices for gift exchanges, and circulated in large volumes. They also played an important role as a communication tool linking person to person.
Folding fans are also connected to other forms of art, including folding screens and picture scrolls, and also to crafts, including weaving and dyeing. Created in immense variety, folding fans, interacting with every genre and every school of art, contained the essence of beauty, of art that Japanese sought.
This exhibition introduces the beautiful world of the folding fan, so loved by the Japanese, in terms of a broad range of periods and perspectives. Just as the fan in your hand changes its appearance every time it flutters, the multifaceted world of the folding fan is delightfully varied.
Period

November 28, 2018 to January 20, 2019

*There will be an exhibition change during the course of exhibition
*This exhibition will travel to Yamaguchi Prefectural Art Museum (March 20 to May 6, 2019).
*Download the list of changes in works on display

Hours

10:00-18:00 *Friday and Saturday 10:00-20:00

*Open until 20:00 on December 23, 2018 and January 13, 2019
*Open until 18:00 on December 29, 2018

Closed

Tuesdays

*Open until 18:00 on January 15, 2019
*Closed from December 30 to January 1, 2019.

Admission

Adult
General
¥

1,300

Advance
¥

1,100

University and
High School Student
General
¥

1,000

Advance
¥

800

Elementary, junior high school students and under are free.
*With a certificate of disability, the admission fee of a disabled person and a care-giver will be waived.
*Advance tickets will be available at the Suntory Museum reception desk during opening hours from September 19 to November 11.

Discount

◇100 Yen Discount
•For presenting a coupon downloaded from our website
•For displaying a coupon on your smartphone
•For presenting a ticket to a thematic exhibition at the National Art Center, Tokyo, or Mori Art Museum
•For parties of 20 or more

*Only one discount per person

Audio Guide

¥550
*Unauthorized reproduction or use of texts or images from this site is prohibited.