Section 1: Creating Space
What is your impression when you stand in front of Green Maple and Waterfall, by the Edo-period painter Maruyama Ōkyo? We are apt to talk about our reactions to what is depicted there, and how: "It's realistic" or "Refreshing color." Try, however, expanding your imagination to consider where this painting could be attractively displayed. What sort of space would that be? Try opening your thinking to a Japanese approach to art appreciation that has been cultivated over the centuries.
When painting scenes for large-format paintings such as fusuma sliding door or folding screen paintings, artists frequently included spring, summer, fall, and winter—all the seasons. The four seasons cannot, of course, exist at the same time in the real world. But these paintings present a paradise that transcends time and space. A folding screen, simply by decorating a room, is a device that creates a virtual space, a space from a different dimension.
This section introduces the ancestral version of virtual reality, a world that Japanese paintings create.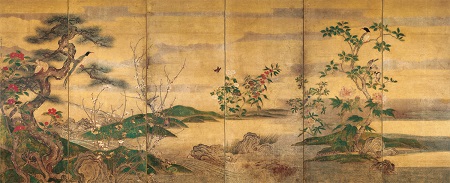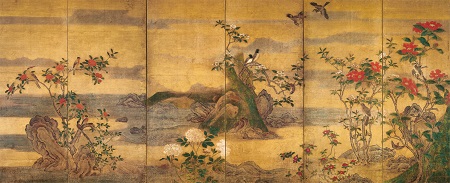 Section 2: Enjoying Small Things
In the Pillow Book, Heian-period author Sei Shōnagon famously wrote, "All things small, no matter what they are, all things small are beautiful." Yes, the Japanese sense that "small things are without exception cute" has a long history.
Thus, for example, in the late Edo period, the Nanasawaya, a ningyō doll shop located near Shinobazu Pond in Ueno, specialized in miniature accessories for the hina ningyō displayed at the Doll Festival. Those miniatures became extremely popular among both daimyō and prosperous commoners. The accessories, which include writing implements, items for serving food and beverages, and toiletries sets, are so precisely made that one would not realize, looking at photographs of them, that they are miniatures.
This section addresses miniatures in a variety of genres, all of which make us, unconsciously, eager to hold them in the palms of our hands. Enjoy comparing these with similar but standard-sized works.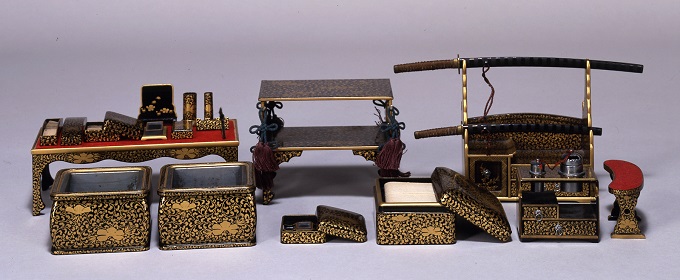 Section 3: Painting from the Heart
In Japan, many paintings handed down over the generations are in a style that transcends being judged skillful or clumsy, a style simply to be loved. The survival of those paintings reminds us that people, centuries ago, existed who recognized that precision in depicting a subject is hardly a standard for assessing a picture and cherished paintings that are innocently ingenuous.
Consider, for example, the Karukaya, a picture book version of a sermon this gem from our collection, once seen, can never be forgotten. It is utterly captivating. The brushwork, free of the dictates of any technique, strides along as though communicating the beating of the painter's living heart. This artless style, precisely because it is the opposite of realism, creates a richly imaginative expression of a world of fantasy.
In this section, we focus on otogi zōshi (illustrated narrative) picture scrolls that date from the Muromachi period, in introducing narrative paintings filled with a passion for painting.

Section 4: Seeking the Landscape Within
During the firing of ceramics, the flames can serendipitously create a variety of effects on the surface of the work. These are called keshiki, landscapes. The keshiki caused by color changes in the clay, scorch markings, or glazes flowing like drops of water make the work give an utterly different impression, depending on the angle from which it is viewed. What type of landscape appeals, which side of a piece does one see as its front—these are significant points in appreciating ceramics.
For example, Vase in Traveller's Pillow Shape from our collection has traces of several holes that have been added to permit hanging it on a wall or pillar. They offer a history of how the vase's successive owners chose what would be the front of the piece, depending on their individual preferences.
In this section, we offer the experience of searching within a piece for the landscape that speaks only to yourself. As you enjoy a 360 degree view of each work, you are bound to find your own surprising keshiki and unexpected visages.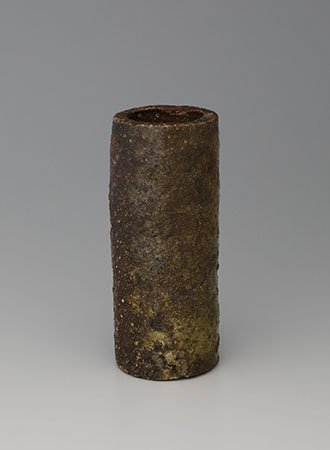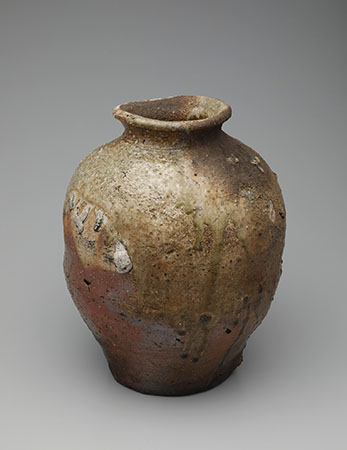 Section 5: With Waka Poetry as Your Guide
"Every living creature sings," says the preface to the Kokin Wakashū (A Collection of Poems Ancient and Modern, c. 905). To the Japanese of the past, to sing, to compose waka poetry, was a talent even animals were thought to possess. Waka battles, like rap competitions, became widely popular, and waka poetry abounded in every aspect of life.
In a world in which waka were so familiar, those poems were also the sources of images inspiring works of art. Beauty in which text and image were one, innovative designs for craft works—all were appreciated because so many people enjoyed a shared knowledge of waka.
Today, waka poetry has become rather remote for most people. One consequence is that in many cases, when we look at a Japanese work of art, its meaning may be obscure. In this section, therefore, we introduce a number of works that are more enjoyable when their connection to waka is understood.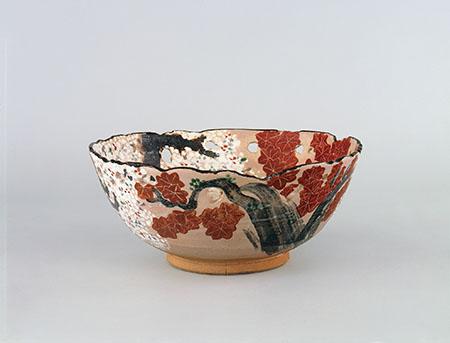 Section 6: Enter the Scene
Objectively viewing scenes within a frame is not the only way to enjoy landscape paintings. Move close to the painting, and you may discover small human figures painted, like dots, on the mountain path, in a boat, or on its other features.
For example, among the works in Landscapes by the Edo-period artist Ike no Taiga, Rural Cottage in Peach Blossom Spring depicts a peaceful mountain village with peach trees in bloom. This small painting, about the size of an A4 sheet of paper, includes seven human figures, each less than a centimeter tall. By imagining what each was looking at and what they were talking about, we can set foot inside the painting.
In this section, with those small human figures added as secondary elements to landscape paintings as our guides, we will observe landscapes from the inside. While freely imagining what the people depicted were feeling, we can savor the pleasure of creating one's own story while stepping within a painting.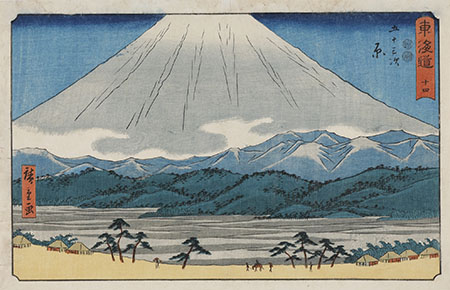 *Unauthorized reproduction or use of texts or images from this site is prohibited.