Reopening Celebration II
Japanese Art: Deep and Deeper
September 30 to November 29, 2020
※There will be an exhibition change during the course of exhibition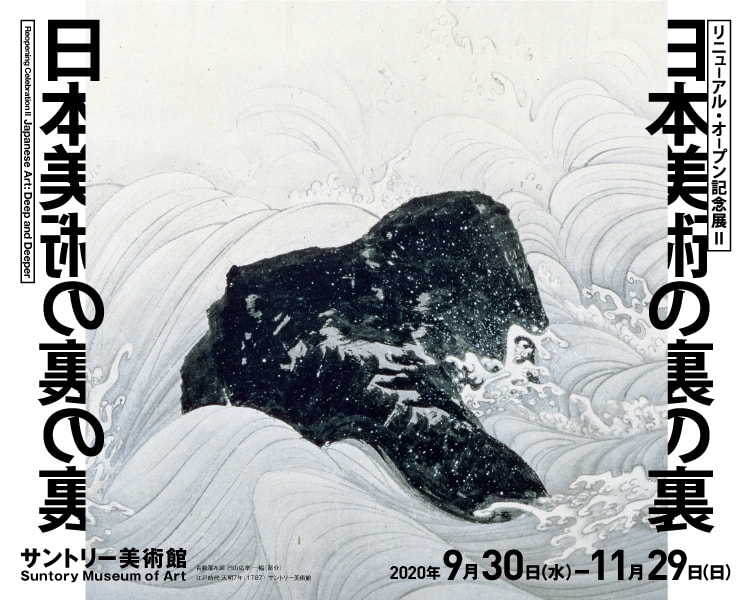 To the people of Japan, art adds beauty and color to life. From interior decor to personal accessories, every aspect of everyday life is an opportunity to express an aesthetic, art in life, which we hope more people can experience and enjoy. That fundamental principle has guided the Suntory Museum of Art since its founding in 1961.
The lifestyles that have given rise to Japan's arts are, however, changing significantly. Shōji sliding doors, tatami, and tokonoma are vanishing from homes and today, when classical Japanese seems like a foreign language, many struggles with the question of how to enjoy classic art.
This exhibition, therefore, focuses on how to enjoy art in life, introducing works rooted in a distinctive Japanese aesthetic from the highly individual works in our collection. Learning how people long ago enjoyed them and learning how to share that experience might be called a deep secret, a necessary skill for appreciating art, one increasingly unknown to people today.
This exhibition, going Deep and Deeper, invites you not only to explore what is not readily visible but to uncover hidden depths. To enjoy Japanese art more deeply, we introduce just some of its fascinating aspects that textbooks do not cover. Take a deeper look, exploring what is not visible to the eye, and you may uncover hidden enchantments.

*Audio guide is not available for this exhibition.
Period

September 30 to November 29, 2020

※There will be an exhibition change during the course of exhibition

Hours

10:00-18:00 *Friday and Saturday 10:00-20:00

*Open until 20:00 on November 2 and 22
*Last admission: 30 minutes before closing

Closed

Tuesdays

*Open until 18:00 on November 3 and 24
*shop and cafe will also be closed on Tuesdays.

Admission

Adult
General ¥

1,500

Advance ¥

1,300

University and
High School Student
General ¥

1,000

Advance ¥

800

Elementary, junior high school students and under are free.
*With a certificate of disability, the admission fee of a disabled person and a care-giver will be waived.
*Advance tickets will be available at the museum reception desk during opening hours from July 22 to September 13.

Discount

◇100 Yen Discount
•For presenting a ticket to a thematic exhibition at the National Art Center, Tokyo, or Mori Art Museum

*Only one discount per person
*Unauthorized reproduction or use of texts or images from this site is prohibited.