The Glass that Gallé Adored
— Glass from the Qing Imperial Collection
April 25 to July 1, 2018
※There may be an exhibition change during the course of exhibition
*Download the list of changes in works on display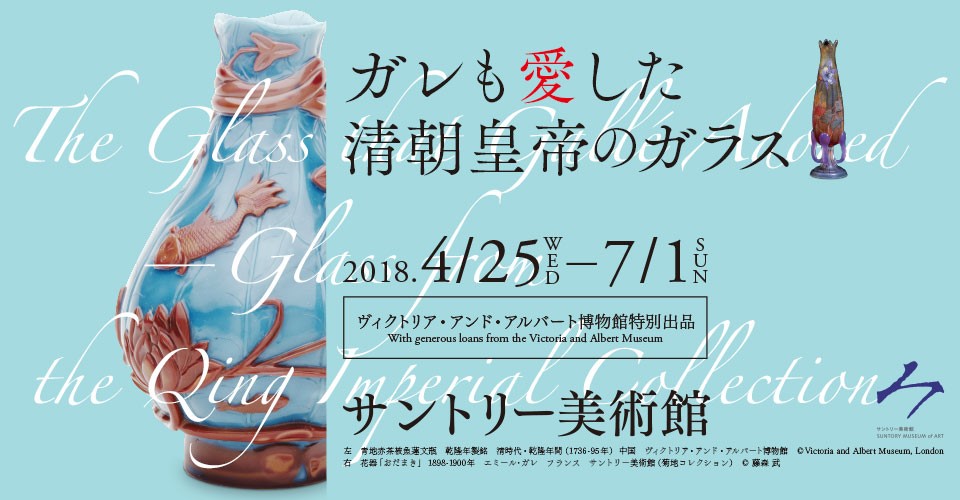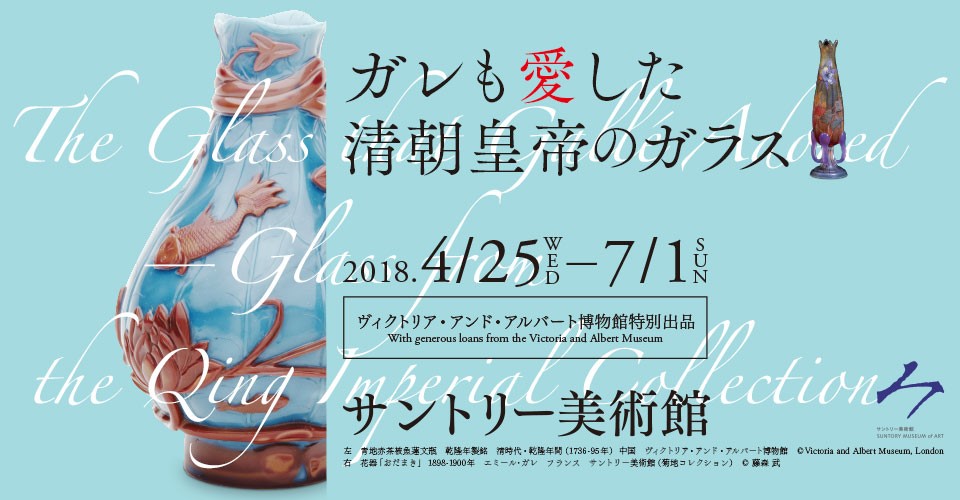 The origins of glass production in China lie deep in the past, in the late Spring and Autumn period and the Warring States period (500 BCE to 300 BCE). The glass created then was usually crafted into bi (a disc with a hole in the center) or sword ornaments, both for ritual use, or glass beads and rings worn as ornaments. That early glass served as a substitute for gemstones, including jade.
It was not, however, until the Qing dynasty, many centuries later, that glass production made dramatic advances in China. In 1696, the fourth Qing emperor, Kangxi (reigned 1661–1722), established a glass workshop, the Imperial Palace Glassworks, within the Forbidden City to make glass for the emperor. His successor, Yongzheng (reigned 1722–35), continued to support the workshop, which achieved its peak period, with a rich variety of works, during the reign of the sixth emperor, Qianlong (reigned 1735–96).
Transparency and fragility are usually thought of as giving glass its magnetism, but Qing tastes in glass, especially in its golden age, were quite different. Qing glass, occupying a range between transparent and opaque, was massive, magnificently carved and polished, and quite superb. Its exceptional beauty captivated Emile Gallé (1846–1904), the leading artist of France's Art Nouveau period. Gallé did more than admire: he incorporated the beauty of Qing glass in his own creative work.
This exhibition attempts to introduce, through distinguished collections of glass, the beauty of Qing imperial glass and to compare it with Gallé's work. The exhibits include a group of works brought to Japan from the Victoria and Albert Museum in Britain.
Period

April 25 to July 1, 2018

※There may be an exhibition change during the course of exhibition
*Download the list of changes in works on display

Hours

10:00-18:00 *Friday and Saturday 10:00-20:00

*Open until 20:00 on April 29, May 2 and 3
*Open until 24:00 on May 26 due to "Roppongi Art Night"
*Last admission: 30 minutes before closing

Closed

Tuesdays

*Open until 18:00 on May 1 and June 26
*shop×cafe will be open daily during a period of an exhibition.

Admission

Adult
General
¥

1,300

Advance
¥

1,100

University and
High School Student
General
¥

1,000

Advance
¥

800

Elementary, Junior-High school students and under are free.
*With a certificate of disability, the admission fee of a disabled person and a care-giver will be waived.
*Advance tickets will be available at the Suntory Museum reception desk during opening hours from February14 to April 8.
*On May 26 admission fee for adults and students will be ¥500 due to "Roppongi Art Night".

Discount

◇100 Yen Discount
•For presenting a coupon downloaded from our website
•For displaying a coupon on your mobile/smartphone
•For presenting a ticket to a thematic exhibition at the National Art Center, Tokyo, or Mori Art Museum
•For parties of 20 or more

*Only one discount per person

Audio Guide

¥550
*Unauthorized reproduction or use of texts or images from this site is prohibited.