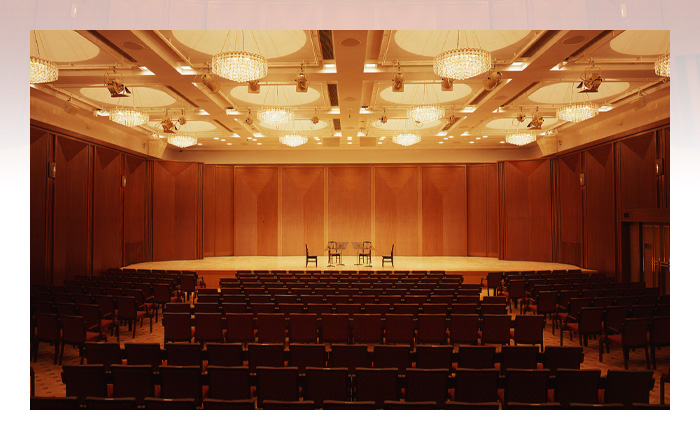 The Small Hall was refurbished in 2007—the stage was expanded and audiovisual equipments were installed—in response to diverse needs for concerts and performances, and opened under a new name: "Blue Rose.As with the Main Hall, wood has been used extensively in the design of Blue Rose (Small Hall) giving the space a brilliant sound and warm atmosphere.
The flat floor and movable seating provide an intimate performance space that makes you feel as though the artist were performing right beside you. The stage consists of seven platforms, each of which can be raised up to 60 centimeters above floor level in 20-centimeter increments.This function enables the accommodation of innovative room arrangements for concerts and helps create a performance space with free-minded imagination. Blue Rose is also available for lectures and other gatherings.
※The term "blue rose" has been regarded as a synonym for something impossible. However, Suntory applied biotechnology successfully to develop and produce"Blue Rose"—a new variety of rose—in 2004. The Small Hall was renamed "Blue Rose" having in mind that the venue would be another leverage for many artists to stage their challenges


The Chamber Music Garden was opened in 2011 to further share the joy of chamber music.The Blue Rose is an ideal space for chamber music where the audience can more closely feel the breath and passionate expressions of the musicians on stage. The stage is installed so that it faces the Blue Rose entrance, surrounded by seats arranged in a semicircle. World-renowned musicians from Japan and abroad make a yearly visit in June to the Blue Rose to let the Garden bloom with the colorful flowers of chamber musi

Based on the spirit of "Yatte Minahare" (Go for it!) of Keizo Saji, the founding president of Suntory Hall, the Yatte Minahare (Go for it!) Project started in 2011. Suntory Hall publicly calls for applications for and sponsors creative and challenging projects that make extensive use of the space, acoustics and atmosphere of Blue Rose. Selected projects are hosted during the Suntory Hall Festival held every autumn.

A one-week exhibition was held in October 2012 during which a valuable collection of historical artworks and documents owned by the Society of Friends of Music in Vienna was displayed at the Blue Rose, whose décor is reminiscent of a salon in Vienna. The history of musical exchange between Europe and Japan was introduced from diverse perspectives by displaying materials and by holding salon concerts, mini concerts based on old music scores, and gallery talks.