In response to diverse needs
Blue Rose
(Small Hall)
The Small Hall underwent refurbishment in 2007 — the stage was expanded and audiovisual equipment was installed in response to diverse needs — and was renamed 'Blue Rose'.
As with the Main Hall, wood has been extensively used, giving the space a warm sound and atmosphere. It is a venue where one feels close to the performers, and with its movable seating, it can be used imaginatively to create new types of musical spaces. It can also be used for lectures and different kinds of functions.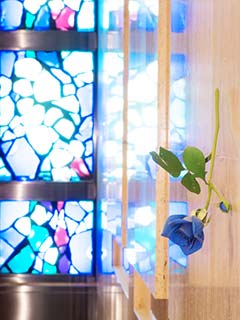 The term 'Blue Rose' is often regarded as a synonym for something that is impossible. However, Suntory applied biotechnology successfully to develop the 'Blue Rose' — a new variety of rose — in 2004. The Small Hall was therefore renamed 'Blue Rose' in the hope that artists would use it to stage their challenges.