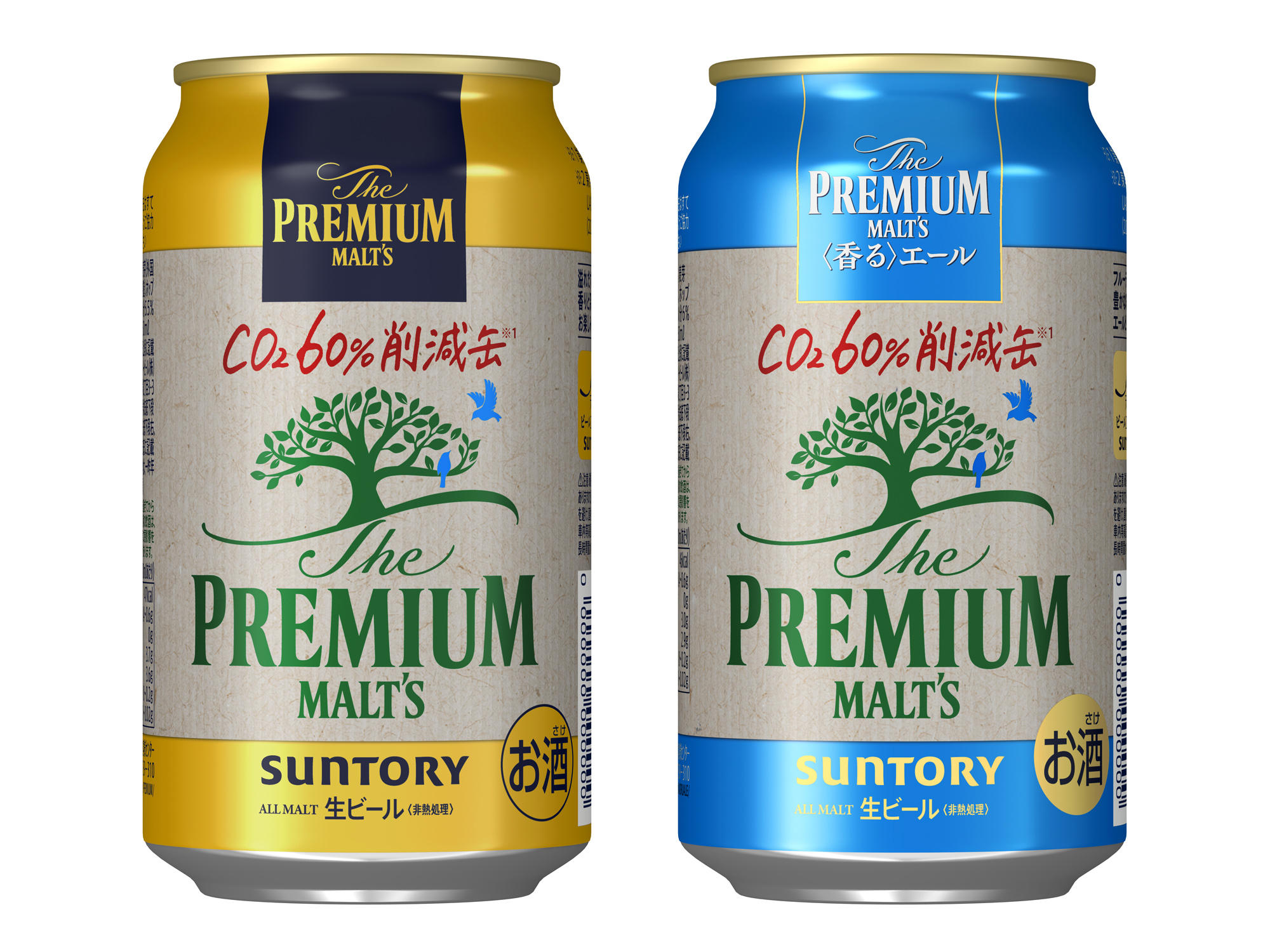 Tokyo, JAPAN (August 31, 2022) - Suntory Spirits Ltd. (Suntory) will be using the world's first 100% recycled aluminum can*1 in its limited editions of The Premium Malt's CO2 Reduction Can (350ml, 5.5% ABV) and The Premium Malt's 〈Kaoru〉 Ale CO2 Reduction Can (350ml, 6% ABV) which will be available in stores nationwide in Japan from Tuesday, September 6th in a limited amount.
This first of its kind 100% recycled aluminum can*1 was jointly developed by UACJ Corporation and Toyo Seikan Group Holdings, Ltd. and emits 60% less CO2 compared to when creating a regular aluminum can*2.
"We are delighted that the three companies were able to take on the challenge to reduce greenhouse gas emissions in the value chain and achieve this goal," said Masaaki Fujiwara, Deputy Division COO, Sustainability Management Division Leader at Suntory Holdings. "We will continue to work together with all members of the value chain and promote various initiatives to realize a circular society."
As a global beverage company supported by the blessings of nature such as water and agricultural products, the Suntory Group has been aiming to realize a sustainable society with its corporate mission "To create harmony with people and nature". In order to achieve net zero greenhouse gas (GHG) emissions across the entire value chain by 2050, the Suntory Group has set a goal to halve GHG emission in its direct operations*3 and reduce by 30% across the entire value chain*3 by 2030.
For packaging and containers, the Suntory Group considers its environmental impact throughout the entire product life cycle, from product design to transportation and recycling after consumption, and works to promote a circular economy. For PET bottles specifically, the company has established the "Suntory Group Plastic Policy" in 2019 to contribute to achieving a recycling-oriented and decarbonized society.
The Suntory Group will continue its efforts to reduce GHG emissions throughout the entire value chain by actively introducing environmentally friendly packaging materials and containers as well as installing more energy efficient technologies and renewable energy.
*1 First as a commercialized SOT (Stay On Tabs) can which uses only recycled aluminum derived from canned materials (based on research by Toyo Seikan Group and UACJ, as of July 2022)
*2 350ml beverage aluminum can produced by Toyo Seikan using UACJ aluminum material
*3 Compared to 2019 baseline
Notes to editors:
●Comment from UACJ Corporation:"The fact that the three companies were able to realize this unprecedented attempt to use 100% recycled materials is a big step toward our corporate slogan, 'Aluminum lightens the world'. We will continue to expand the possibilities of aluminum and contribute to the creation of a better global environment."
●Comment from Toyo Seikan Group:"We are very pleased that the three companies were able to work together to materialize this initiative into a product. We will continue to take on the challenge of creating new value that will change the society in cooperation with like-minded partners toward the 'realization of a sustainable society' as stated in our Long-Term Management Vision 2050 'The Future, Wrapped for All'."
●For more details on The Premium Malt's CO2 Reduction Can, visit
https://www.suntory.co.jp/beer/thepremiummalts/recycle (available only in Japanese)
●Learn more about Suntory Group's environmental activities here.
About Suntory Group
As a global leader in the beverage industry, Suntory Group offers a uniquely diverse portfolio of products from premium spirits, beer and wine to brewed teas, bottled water, carbonated soft drinks, ready-to-drink coffee and energy drinks, along with health and wellness products. Suntory is home to award-winning Japanese whiskies Yamazaki, Hibiki and Hakushu as well as iconic American spirits Jim Beam and Maker's Mark. Suntory also fascinates the taste buds in Japan and the Asian market with our Premium Malt's beer and also owns the exceptional Japanese wine Tomi and the world famous Château Lagrange. Its brand collection also includes Sauza Tequila, non-alcoholic favorites Orangina, Lucozade, Ribena, BOSS coffee, Iyemon green tea, Suntory Tennensui water, TEA+ Oolong Tea, V and BRAND'S, as well as popular health and wellness product Sesamin EX.
Founded as a family-owned business in 1899 in Osaka, Japan, Suntory Group has grown into a global company operating throughout the Americas, Europe, Africa, Asia and Oceania with an annual revenue (excluding excise taxes) of $19.8 billion in 2021. Suntory is driven by Yatte Minahare - the spirit of bold ambition - and our 40,275 employees worldwide draw upon our unique blend of Japanese artisanship and global tastes to explore new product categories and markets.
As a company that delivers blessings of water and nature to our customers, Suntory is committed to its mission to create harmony with people and nature. Always aspiring to grow for good, Suntory is devoted to giving back to society through protecting water resources, nurturing its communities and fostering the arts.
Learn more about Suntory Group, its brands, and its commitment to social responsibility at www.suntory.com, on Facebook, Twitter, Instagram, LinkedIn, and YouTube.
About UACJ Corporation
UACJ Corporation is an integrated aluminum manufacturer doing business globally and with its origins in Japan. It defines its Group purpose to "Contribute to society by using raw materials to manufacture products that enhance prosperity and sustainability."
The Group has six businesses: flat rolled products, automotive components, extrusion, foil, casting and forging, and precision-machined components. It provides aluminum materials to a wide range of industrial fields, including the beverage can, automotive, IT equipment, air conditioning, and aerospace industries.
In the fiscal year ended March 31, 2022, the Company had net sales of ¥782.9 billion and around 9,700 employees around the world. For more information, please visit https://www.uacj.co.jp/english/
About Toyo Seikan Group Holdings, Ltd.
Toyo Seikan Group Holdings, Ltd. is a world-class comprehensive packaging manufacturer, delivering a variety of packaging containers using materials such as metal, plastic, paper, and glass. In the Long-Term Management Vision 2050, "The Future, Wrapped for All," they set the goal to go beyond our traditional field of packaging, aiming to become a corporate group that creates new value that changes society. Founded in 1917, Toyo Seikan Group Holdings, Ltd. does business on a global scale, with 46 group companies in Japan and 50 overseas and currently employs a multinational workforce of 19,000 people. For more information, please visit https://www.tskg-hd.com/en