STORIES
─The Front Lines of Sustainability Activities
Release date: September 29, 2023
Being the Best Company for Employees with Disabilities to Shine
Suntory began hiring people with intellectual disabilities in 2015. In 2018, it established a department called the Collaborative Center, which works to maximize the potential of people with disabilities while having them engage with other employees. Noriko Hiraoka of the Collaborative Center, Suntory Business Systems Ltd. (at the time of writing), describes the department's activities.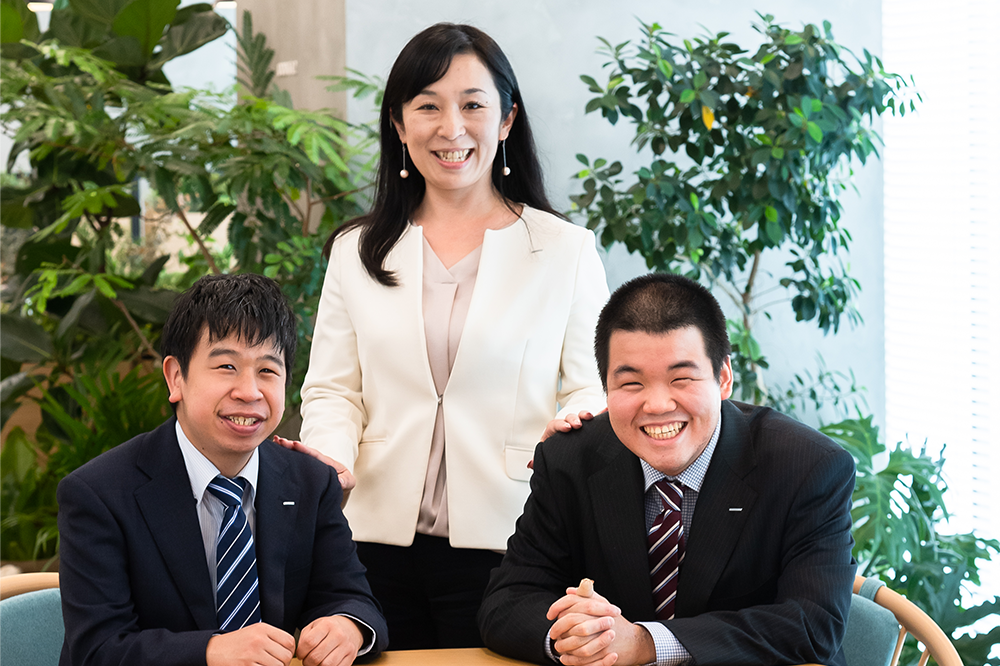 What Is the Collaborative Center?
Under Suntory's diversity management, various business tasks from 28 Suntory Group companies in Japan are outsourced to 38 employees (24 in Tokyo, 8 in Osaka, 2 in Tohoku, 2 in Nagoya, 2 in Hiroshima) who graduated from special needs schools. They work at the Collaborative Center, where they make contributions to various business endeavors.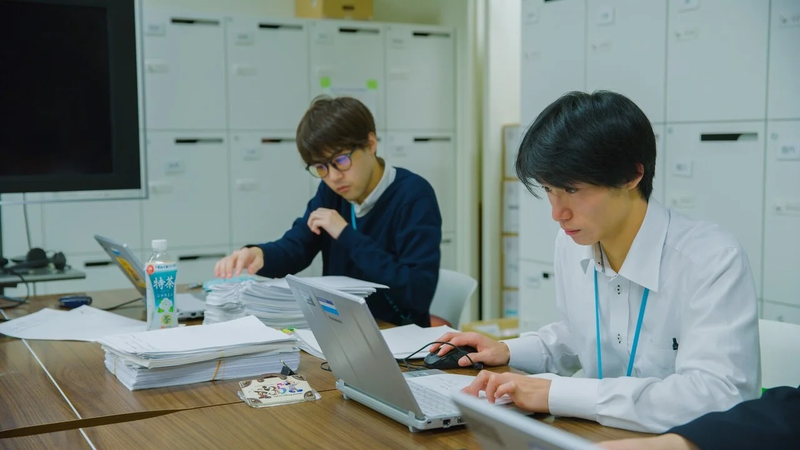 When the Collaborative Center was first established, we started out by receiving work for around 10 types of business tasks from three Suntory Group companies. We undertook the new types of work with enthusiasm, courage and the spirit of "Yatte Minahare*." We have now expanded the types of business tasks we perform to more than 350 from 29 Suntory Group companies in Japan. They primarily encompass computer-based tasks as well as running mailrooms and printing and mailing POP and letters.
*

"Yatte Minahare"—the spirit of ambition to dream big, take challenges, and never give up. This is our founder's saying, which drives us to go on bold ventures and to be pioneers and entrepreneurs.
Having a Child with Disabilities Opened a New Path
In 2007, my first child was born with Down syndrome. I was not sure about balancing work and home life while raising a child with developmental delays, but with the help of my family I ultimately decided to return to work. After I did, my feelings of wanting to do what I could to contribute to the company and society grew stronger day by day. I decided that I wanted to be involved in hiring people with intellectual disabilities.
Then in 2015, I participated in an internal project and had the opportunity to submit a report to company executives.
This offered me the chance to directly convey my ideas about what activities I thought would be deeply meaningful for Suntory and for society and what kind of energy would activate the organization, and was part of what led to me becoming involved in hiring people with disabilities, just as I had wanted to, in 2016.
Self-Realization through Work
I was thrilled to be doing what I had dreamed about, but once I actually started doing the work, I also felt the weight of the responsibility and the difficulties in providing support to members. I have tried to ensure that everyone at the Collaborative Center is able to work with enthusiasm and give their all no matter what the task, and that individuals can embody the spirit of "Yatte Minahare" through their work, while striving to understand each person's aptitudes and strengths as much as possible, believing in their potential, and having them challenge themselves in various business tasks.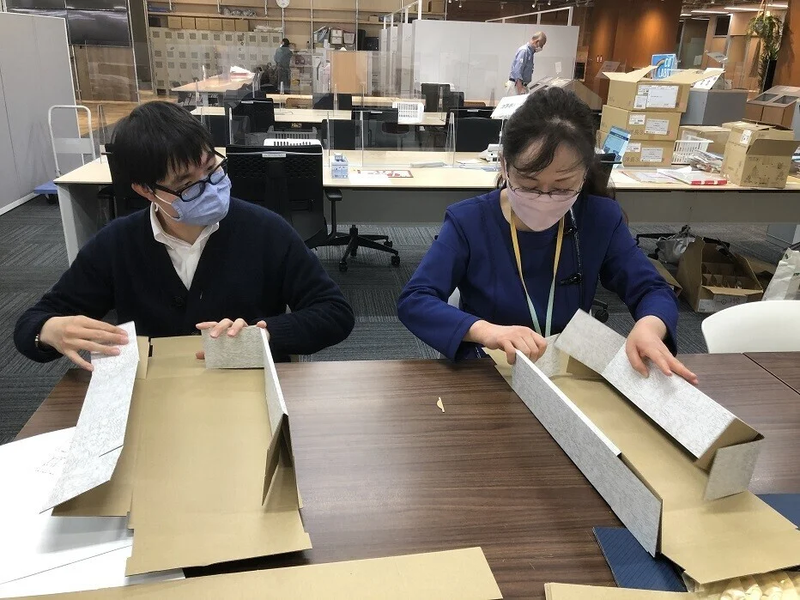 The two photos above were taken at an event where employees from other departments come to the Collaborative Center and work together with Collaborative Center members while learning how to do their work from them. Bustling with engaging communication and energy, the event sparks various realizations among participating employees. We continue to hold this event and have had more than 200 people participate to date.
The Presentation of Results Is a Major Annual Event
The presentation of results is held once a year. At the event, Collaborative Center members present what they have worked on over the year (My "Yatte Minahare") and what they plan to work on the following year.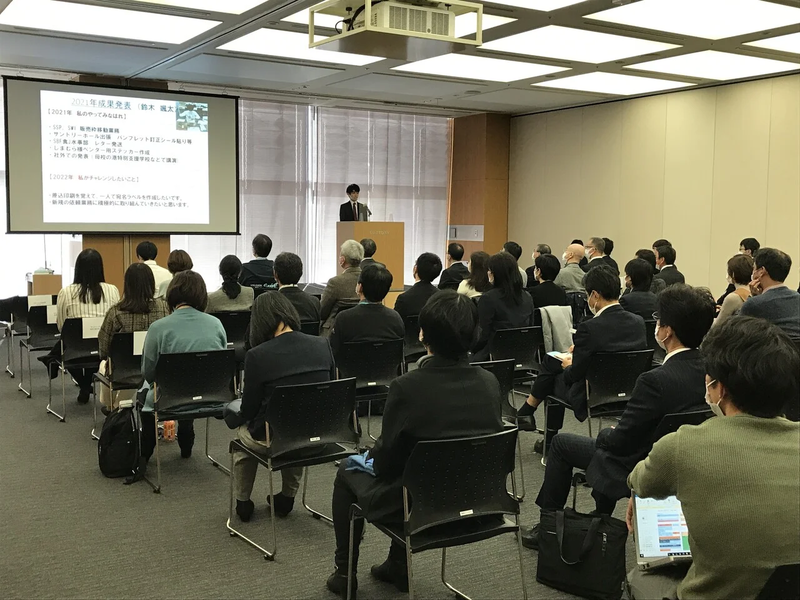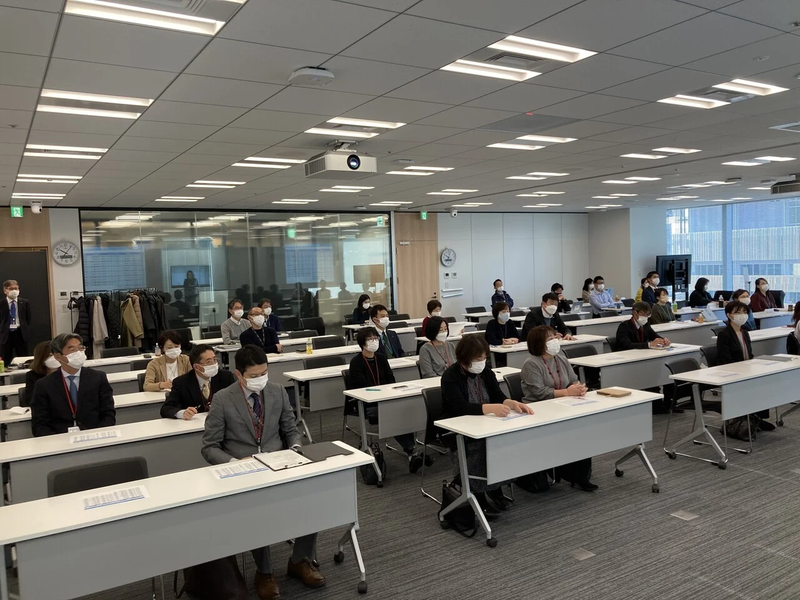 In 2022, around 300 people including Suntory employees, teachers from schools that Collaborative Center members graduated from, guardians and others from around Japan attended the presentation of results, including remotely. At times I could not hold back my tears as I watched our members each give their best effort to present in front of the large crowd and listened to messages to our members from other employees involved in the business tasks.
I am also very pleased to see how the presentation of results also prompts employees attend to have various realizations.
"Listening to everyone's presentations renews my soul. Their earnest attitude toward their work makes me want to work harder myself."
"Their single-minded focus on each and every task, their strong motivation and their proactive communication came through in members' presentations as well as afterward in the messages communicated by other employees. It was a very heartwarming event with many touching moments."
"The event drove home aspects of what work is truly about, such as carefully and accurately performing tasks one by one, the motivation to grow by taking on new challenges once you master something, and the desire to work hard for others. It was a wonderful presentation of results."
Looking ahead, I want to open Collaboration Centers throughout Japan so that members with disabilities are a part of every workplace, and continue supporting Collaboration Center members so that they can continue working in the way that accommodates their needs.
I will also contribute to creating a society in which people with intellectual disabilities are accepted as active participants and engage with lots of different people while both impacting and being impacted by them.